Eye cream, sunscreen, serum... what goes first?
Section

Publish Date

Thursday, 11 May 2017, 4:14PM
Getting ready in the morning has become a complicated, multi-step process. In the past we cleansed, toned and moisturised. Now we are encouraged to add serums, primers, oils, BB creams and even (if we're daft) anti-smog sprays. But there is a right and wrong way round when it comes to applying skin products, especially if you want your foundation to last the day or your expensive serum to do the job it promises.
Step 1. Cleanse and pat your skin dry.
Step 2. Tone. An optional step. Many toners do contain ingredients to treat the skin; others, however, provide all the benefits of pretty-smelling water.
Step 3. Apply serum. Light products go under heavy ones. A serum like La Prairie's new White Caviar Illuminating Pearl Infusion ($720) won't be able to penetrate a heavy cream or oil, so applying it before moisturiser is a (terrifying, considering the cost) waste of money. Therapeutic treatments - those with ingredients such as hydroquinone or kojic acid, peptides or caffeine - are also best applied to clean skin.
Step 4. Moisturise - with cream, oil, BB and CC creams or tinted moisturiser, whatever you prefer. What you use tends to depend on the weather - if it's cold, you are likely to require the additional hydration of a cream - and skin type. If you like an eye cream, don't apply your usual moisturiser around the eye area. Leave it naked and use eye cream last. If you are without eye cream, normal moisturiser will do nicely.
Step 5. Sun protection. Apply sunscreen if you are spending any time in the baking sun, but if you're just going from the car to the office, you can probably get away with the SPF contained in your moisturiser/BB/CC cream. (Ideally, we would all be slathering our faces in block, but the reality is that most women don't.)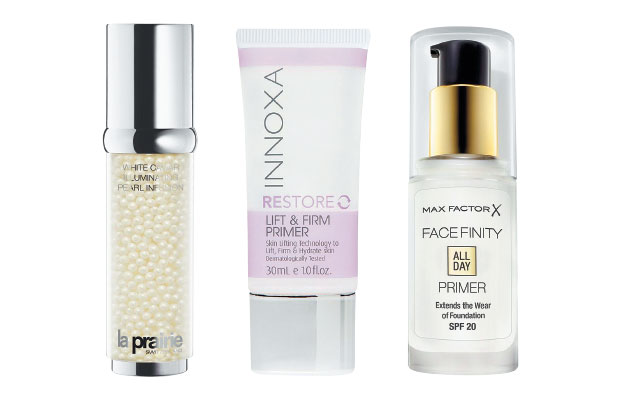 Step 6. Apply primer, if you are using one. If it contains added hydration like Innoxa's Restore Lift and Firm ($25) or an SPF 20 like Max Factor's FaceFinity All Day ($37) you could well skip steps 4 or 5.
Step 7. Foundation and then concealer. There's no point in applying concealer first since foundation will wipe it all off. Ditto eye brighteners and skin illuminators, which should also be applied after foundation to ensure their light-reflecting particles aren't rubbed into the skin.
TIP: Is your foundation not going on as evenly as you like? It could be your cream or oil is reacting with it, sometimes causing it to "pill". If that's the case, swap your usual moisturiser for a lighter one in the morning and apply the heavier product at night.