Do these gels give you Kylie Jenner lips?
Section

Publish Date

Thursday, 7 September 2017, 4:53PM
It's the 10th anniversary of Keeping Up With The Kardashians. "OMG no", you say? Bible, yes. So the NZH Lifestyle team attempted to live like the Kardashians for a week by following tips found on their apps. Could we keep up?
After a not-so-successful attempt at contouring like Kim yesterday, we came to the conclusion that looking like a Kardashian really ain't easy. It requires a lot of daily maintenance, some serious cash, a glam squad and in some - make that all - cases, plastic surgery.
We don't have a glam squad and we're not keen to go under the knife. Instead we researched some nifty products in the hopes of replicating the pouty lips and bronzed skin synonymous with Kardashian beauty.
READ MORE: • What it's really like to eat like a Kardashian • How hard is it to contour like Kim K?
We tried the Skyn Iceland lip plumping gels from Mecca, which use a state-of-the-art, transdermal delivery system to plump the lips and Bondi Sands Tanning Mist, which is said to be the ultimate fuss-free tan.
LIPS
Jenni
WHAT I EXPECTED:
Just like Kylie, I've always been self-conscious about my lips. I wanted them to be bigger and considered getting fillers at one point.
So I thought this would be the perfect way to see what I'd look like if one day I do choose to go through with a surgical treatment.
WHAT ACTUALLY HAPPENED:
Before I tried the Skyn Iceland lip plumping mask, I used a natural lip scrub made from a recipe on Kourtney's app. The scrub contained honey, raw sugar and coconut oil and left my lips feeling soft and super hydrated.
While the lip mask smelt amazing, it was a bit slippery so I struggled to get mine on.
However once I got the "suction" happening like the instructions advised, I was away laughing. Literally. I laughed so much that the whole thing came off and I had to start again.
After leaving the product on for 10 minutes I did notice a slight plumpness around my lips and they felt smooth and hydrated.
WOULD I TRY LIP PLUMPING AGAIN?
Honestly, I'm not sure. While I think this product did a good job and it was fun to test a slightly new look, the process also made me realise I don't dislike the size of my lips as much as I thought I did.
Maybe the Kylie Jenner pout just isn't for me.
Liana
WHAT I EXPECTED:
My lip size isn't something I've ever really pondered so I wasn't sure what I was expecting by using a plumping product.
Both Khloe and Kylie have some of the most perfectly plump lips I've ever seen. I'm open to the idea of lip fillers myself, but if a lip plumping mask and over-lining can give us the same effect then I'm on board.
WHAT ACTUALLY HAPPENED:
We tested some lip plumping gel masks by Skyn Iceland which promised to improve the look and fullness of our lips in 10 minutes. The results? Hilarious.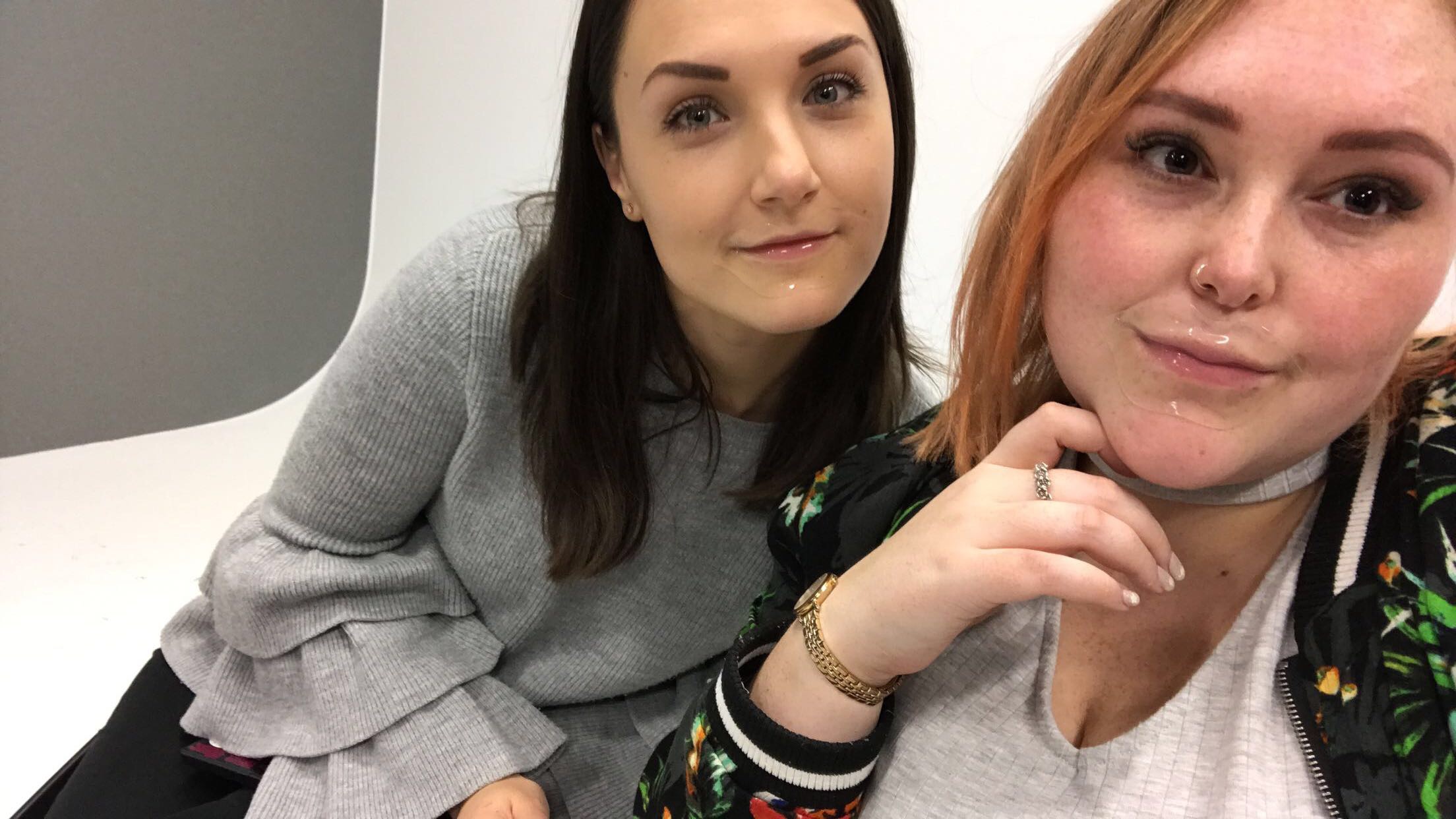 Trying to get the suctioning right without laughing was difficult, to say the least. After 10 minutes of tingling, cooling, a lot of giggling and not being able to communicate, we removed the masks.
My lips did have a subtle plumpness to them and felt wonderfully smooth and soft, but we're not on King Kylie's level just yet.
WOULD I TRY IT AGAIN?
This is a no brainer for me: I definitely would. Who doesn't want soft, plump, kissable lips?
TANNING
Jenni
WHAT I EXPECTED:
I am quite naturally tanned so don't often use self tanners at home. And I feel like I'm still scarred from tanning disasters back in the early 2000s when fake tan was not a good product (read: orange, stinky and streaky).
WHAT ACTUALLY HAPPENED:
I used Bondi Sands Tanning Mist, in Dark and found it super easy to apply. It didn't have that strong, dirty fake tan smell common among self-tanning products. It actually smelt nice and tropical.
I used the spray bottle version and found it streak-free and easy to apply to my full body, including my back.
I let it develop for four hours as per the instructions and was really pleased with the results: An even, natural-looking tan.
I felt like I was rocking a serious Kardashian glow and really loved the green undertones of the tan colour that worked well with my olive skin.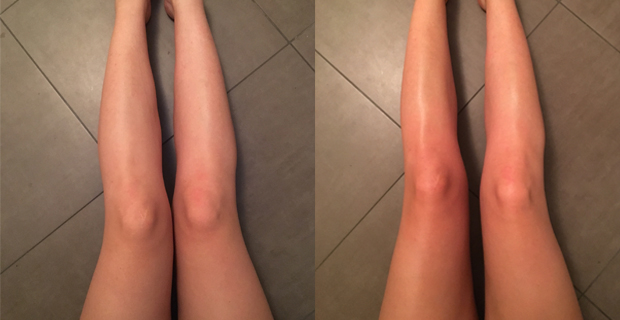 WOULD I TRY IT AGAIN?
Yes. I conquered my fear of home tanning and got some awesome results with this product. I love that it's 100 per cent cruelty-free too. I'd definitely use this to keep up my Kardashian glow all year round.
Liana
WHAT I EXPECTED:
Summer through winter the Kardashian-Jenners have that enviable glow about them.
I am a fan of a natural tan but I've never had a spray or sun bed tan. I'll usually only apply a light layer of fake tan or only spray the areas of my body that will be on display if I'm wearing an outfit that shows a bit of skin.
So, honestly, I was expecting to be Donald Trump level orange with this full application but in the name of acheiving Kardashian-level bronzeness, I had no other choice but to go feet-first, literally.
WHAT ACTUALLY HAPPENED:
I used Loving Tan in Dark. I prepped by exfoliating and moisturised my ankles, knees and feet. Starting with my feet I worked my way up to my stomach.
I smelt like coconut and found myself in some very awkward positions in front of my mirror on my bedroom floor. As my tan started to develop I started to freak out about what I'd done to myself and decided not to tan any further.
I went off to bed without washing off my tan. When I woke up my sheets were clean (amazing!) and my legs were tanned and glowing (also amazing!). After showering I had a great tan on my legs.
My before and after pics don't show how well they turned out, though in real life, I have a gorgeous natural-looking tan.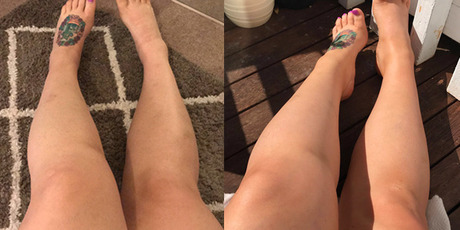 WOULD I TRY IT AGAIN?
Definitely. And maybe I'll even attempt the rest of my body too.
Keeping Up With The Kardashians 10th Anniversary celebrations:
• Every episode ever marathon - Saturday 9 September - Monday 2 October, 6.30am - 6.30pm on E! (SKY channel 014)
• 10th Anniversary Special - Monday 25 September, 2pm (encore 9.30pm) on E! (SKY channel 014)