Brunch review: Torbay's newest eatery
Section

Publish Date

Friday, 3 March 2017, 3:21PM
SET UP & SITE The Torbay community has one of the greatest Facebook pages around: on a dull night I will log in and tune into my mad neighbours' extraordinarily passionate arguments about barking dogs, lost and found birds, dodgy-looking strangers - and the perennial favourite, fireworks. But flash new cafe Scout has had the community most excited of late. Things got heated when someone grafittied it, prompting a lengthy justification from the building's owner, in turn attracting an outpouring of support - along with pleas for a charity store for those who couldn't afford coffee. It's very fancy: polished concrete floors and pale wood; iced tea served in a jar; and flash magazines to flick through while waiting for your coffee. We sat outside on trestles designed for sharing - a nice way to meet those mad facebooking neighbours. And there's plenty of nearby parking.
SUSTENANCE & SWILL The fancy carries on to the menu: spiced puy lentils shakshouka, ginger and soy smashed tofu and potato manchego cake had me wondering whether I was still in little ol' Torbay. It was especially exciting to see a kids' menu dominated by fruit rather than fries and e-numbers. My daughter chose brulee French toast ($22 with bacon) and a hot chocolate ($4.50). I went for the chilaquiles taco ($22). ("How do you pronounce it?" I asked the waitress. "Taco," was her droll reply.) The hot day also called for an iced tea ($6.50), which was divine: served in a jar and flavoured with strawberries and mint. My soft tacos were stuffed with egg and avocado and microgreens. My daughter pronounced her plate, decorated with fruit and flowers and a large smear of brulee "too much" - too many flavours and textures. We cleared our plates.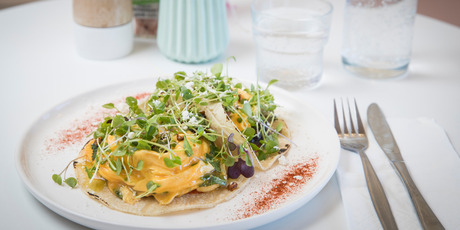 SERVICE & OTHER STUFF The staff uniforms got the thumbs-up from my daughter and certainly they were efficient - although cold glasses would have been better for water. The food here is a touch expensive but is also more varied and daring than most breakfast offerings. I took particular note of the value for money given the Facebook comment about setting up a charity store. However, given the large number of Porsches and Audis that rumbled throatily by, most of my neighbours can afford Scout's prices. A welcome fancy addition to our little shopping centre.