Brunch review: Seabreeze in Westmere
Section

Publish Date

Thursday, 9 February 2017, 10:09AM
SET UP & SITE
Westmere has three cafes on and around the strip of shops on Garnet Rd, and the recently re-opened Seabreeze (formerly Meola Kitchen) definitely comes up trumps in terms of location. High on the street, it captures both the tidal harbour views of the Waitemata as well as sucking up the late western sun. Living down the road, we watched with bemusement, then concern, as Meola Kitchen closed its doors for renovation. Weeks, months, a year passed - good God, it took so long world civilisation began to crumble - with its only income takeaway coffees and a few tasty pastries sold through the window. Nothing much exciting happens in Westmere: when it finally reopened, as Seabreeze, late last year, the locals flocked and claimed their spot. I'm almost certain some of them have never left. Insider tip: come after 10am on a weekday if you don't want to wait for a coveted outdoor spot. Interiorwise, it's pared-back: teal blue walls, wooden bench seating, Douglas & Bec pendant lighting and fabulous floor-to-ceiling windows opening up to that view. But, was it worth the wait?
SUSTENANCE & SWILL
We've been a couple of times. It's an intelligent menu: familiar enough to not frighten the horses but with several eclectic offerings I haven't seen elsewhere. The first time we were more lunch than brunch: I had a healthy if slightly forgettable spring chicken salad with zucchini, chilli, mint, asparagus and peas ($18), my husband an excellent bone marrow burger with pickled, cheddar, mayo and chilli jam ($19). But this time we were here for brunch and, dear reader, in the interests of investigative journalism, despite really fancying toast and a cup of tea, I chose the more adventurous feta, date and sweetcorn fritters with yoghurt, sweet chilli jam and lime ($17) and a Supreme coffee ($4.20). It was possibly a little too early in the day: my taste buds marvelled at the riot of flavours; my brain wondered what had happened to breakfast. Still, that's my fault, not theirs. I could imagine loving it around lunchtime with a glass of rosé or albarino, singing along in tune with all those flavours. Across the table, the poached Bharta eggs with spiced aubergine puree, whipped yoghurt, chilli butter and sourdough toast ($18) was given points for originality but also deemed a little too much, too early. A tropical smoothie ($9) was given the thumbs-up; the usually solid Supreme coffee was, unfortunately, burnt.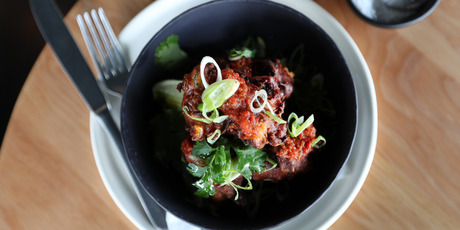 SERVICE & OTHER STUFF
Service was friendly, quick to seat us and generally very sweet. Our drinks and meals arrived quickly. Loved the ceramic salt bowls. A few more cushions to soften the bench seating wouldn't go astray. No doubt we'll be back, timed for when the crowds part, the clock's past 12 and we can take in that view, glass of wine in hand.