Brunch review: Pintu in Ponsonby
Section

Publish Date

Sunday, 2 July 2017, 5:15PM
By Sue Baxalle
Address: Lot 3, 80 Mackelvie St, Ponsonby Ph: (09) 373 3893 Open: Mon-Sat 8.30am-4pm Cost: $40.60 for two.
---
SET UP & SITE
With Pintu being described online as a salad bar, we were uncertain how this would work as a brunch venue, but from the moment we entered - from the Ponsonby Rd entrance - the vibes were good. The semi-industrial, modern feel of the building design marries well with the copper light fittings, ceramic tiles and wood decor and we particularly liked how the menu was written up behind the counter on the tiles, presumably with whiteboard marker. As well as the written menu, there was a good selection of sandwiches and baked fare - both sweet and savoury - at the counter, along with the salad bar, a collection ceramic bowls filled with a variety of fresh ingredients.
SUSTENANCE & SWILL
The breakfast menu is limited but well thought-out, with a pleasing lack of eggs benedict-style options (yawn). I decided to veer away from my usual option of a savoury brunch and ordered the blueberry hotcakes (with infused winter fruits, coconut chips, mascarpone and maple syrup, $16), while my brunch companion chose the shakshuka (baked free-range eggs in a bed of spiced roasted tomato with sauteed potato, basil, mushrooms and goat's cheese, also $16). Both our orders arrived speedily and were attractively presented, the hotcakes prettily decorated with flowers and the shakshuka served in an enamel bowl, accompanied by toast (options were sourdough, multi-grain or gluten-free) on a breadboard. Both were well-portioned and tasty. The coffees (Mojo) were just right and were accompanied by chocolate fish - a touch that always elicits a smile. Other options included a range of smoothies and cold-pressed juices.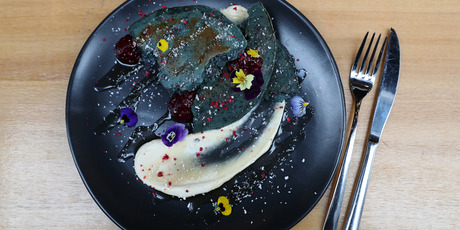 SERVICE & OTHER STUFF
The staff were friendly and efficient, having our coffees ready within a matter of minutes. The meals exceeded expectations and the orange-infused water was a pleasant surprise.