Brunch review: New option for St Heliers
Author

Section

Publish Date

Friday, 17 February 2017, 7:54PM
SET UP & SITE
Let's compare the just-opened Porch to its impressive established near-neighbour, St Heliers Bay Bistro. Hip Group, owners of St Heliers Bay Bistro and other excellent waterside cafes at Kohimarama and Takapuna, have long been the arbiters of good in the city's once-appallingly moribund waterfront brunching experience. Is it a wise idea for a new establishment to attempt to take on such a strong competitor, just a few doors away? Porch has an immediate disadvantage in its building design, which, unlike the brilliant, sunny, inside-outness of its near competitor, offers two distinct dining experiences - the haves, at the strip of tables outside in the bright summer light, and the have-nots, inside in the air-conditioned half-light. We started inside but a table soon came free outside, and the move was worth at least an extra half point, possibly more, on this review's final score.
SUSTENANCE & SWILL
A good menu tells you much about a place: the thought that's gone into its design, the quality of the language, the ingredients themselves. There's a lovely feel to the Porch menu, which makes you feel like you're in the hands of professionals, but not uptight professionals. There are names like "The Usual" and "Bowl-o-rama", and there are descriptions of subtle humour like "porched eggs". I ordered the hash benedict, which came with rocket, chipotle hollandaise and a choice of pulled pork, bacon or salmon. The flavours were great, although my pork was a little dry, and a friend had ordered the same dish but with bacon and was so obtusely happy with his choice that I couldn't help feeling a little sad about my own. The trouble is, if something's a little bit off at Porch, you won't be able to help wondering whether you might have been better off at St Heliers Bay Bistro. The others at our table both had the Bowl-o-rama and were delighted by it, with its bright, clashing colours of poached eggs, avocado, halloumi, quinoa, hummus and pickled vegetables. They both ordered hash browns as extras, which made the dish a little browner and a lot less self-righteously healthful.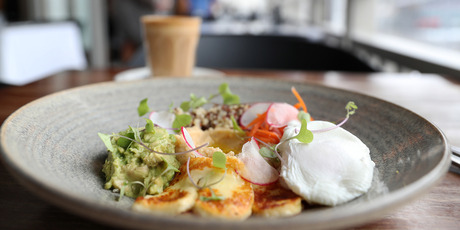 SERVICE & OTHER STUFF
The St Heliers Bay Bistro is sometimes a victim of its own popularity, characterised by long waits, a feeling of claustrophobia, the din and crush of the crowd. Those are not yet problems at Porch. On the hot, late, Sunday morning we went, it was reasonably well populated, but felt relaxed and languid, like a good beach dining experience usually doesn't. It's likely this won't last. St Heliers, for so long so woefully served by their dining establishments, now has two very good choices.