Brunch review: Kreem suffers teething troubles
Author

Section

Publish Date

Wednesday, 15 March 2017, 5:04PM
SET UP & SITE
Kreem had been open less than a week when I visited and it was busy - no surprise really as West Auckland's starved of good cafes and this certainly looked good. Sitting on a purpose-built site just off Lincoln Rd, Kreem has its own bakery and a good range of deli food. Kreem's a cafe franchise with seven other cafes in Auckland. Its fit-out is good - done in a casual SoCal style - vases of flowers and cookbooks on big roll-away tables, a terrace and open, airy layout, Ray Charles on the sound system - really it's all a bit like Meryl Streep's cafe in It's Complicated - I'm not sure there are many other cafes in West Auckland with Himalayan pink salt on the tables.
SUSTENANCE & SWILL
Coffee was fine, served in large cups. They use their own blend of Ethiopian beans. The counter food looked good - wraps, sandwiches, salads, homemade lemon pepper schnitzel with salad ($12.90) - and a dazzling array of cakes and pastries - including Italian sugar donuts ($4) and plum and almond brioche ($4.50). Sadly the menu's pretty standard - your usual range of eggs, mushrooms and muesli but there's a Middle-Eastern influence apparent in the pan-fried snapper and zesty Israeli salad ($26) and "shashuka" - although mis-spelling a dish on the menu doesn't augur well - ($14), which I went for - eggs in a spicy tomato sauce with feta, coriander and warm flat bread. Ima's in Fort St does a wonderful shakshuka but Kreem's was no match - sauce not spicy enough, eggs overcooked. Drinks-wise, knock yourself out: smoothies - mango, chia and coconut water (is that still a thing?), banana oats and trim milk ($8.50) and all the usual frappes, teas and coffees - even filter.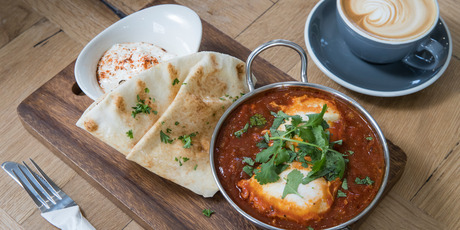 SERVICE & OTHER STUFF
Kreem needs to up its game here too - but it is early days. There were plenty of wait staff but often they were wandering around with plates in their hands reading table numbers (it's quite a large space). The coffee came quickly but I had to ask twice for my shakshuka and neighbouring tables were either delivered the wrong order or kept waiting. Stylish, and pretty good coffee - but the food and service let it down.