Brunch review: Crumb
Author

Section

Publish Date

Friday, 21 July 2017, 4:38PM
Address: Corner of Ariki St and Crummer Rd, Grey Lynn Website: crumb.co.nz Open: Mon- Friday, 7am - 3pm Cost: $36 for two
---
SET UP & SITE
If you live near the corner of Ariki St and Crummer Rd in Grey Lynn you know all about Crumb (it opened a couple of years ago). You will no doubt resent this review driving more people to your beloved local. Sorry about that - but this busy small, corner cafe is too good to keep under wraps.
It's a cafe that doesn't do a lot, but does it well.
The cabinet food - rolls, sandwiches, sweet treats - is fresh and appetising. The coffee (Supreme beans) is good and quick.
It's a place where, yes, you can linger - there are stools at the bar by the window and bean bags outside when the sun's out - but food and coffee-to-go is clearly the intention - as is a big dose of community spirit.
A departing customer is wished luck for an upcoming interview by owner Chris, who has been presiding over Crumb for the past 18 months. He maintains a chatty, unflappable demeanour even in the busy morning rush, which extended - on the first morning I visited - to taking out a coffee to a glassy-eyed man clearly high on an intoxicant much stronger than caffeine, who seemed to be pitching a script idea to a bemused customer on the footpath. And who said Grey Lynn was boring? Beware - parking is non-existent - the surrounding streets are full of suburban-based city workers' cars.
SUSTENANCE & SWILL
Food-wise it's simple stuff, filled pide, BLT's, bacon and egg baps, sandwiches and homemade toasties. The bread's by Il Forno, the sweet stuff is made in-house by Chris and barista Louie (try the ginger slice, $4.50). It's all quality ingredients, not fussed over. Chris, it seems, is quite the perfectionist. He recommended I try the berry smoothie ($8) - as he'd tweaked the recipe a month back - good call. The Superfood salad ($9.50) - served in a takeaway cup - which usually induces a yawn in me - was anything but boring, with a nice heat thanks to the jalapenos.
If you're brave try the Supreme espresso milkshake ($6.50) - made with a double shot.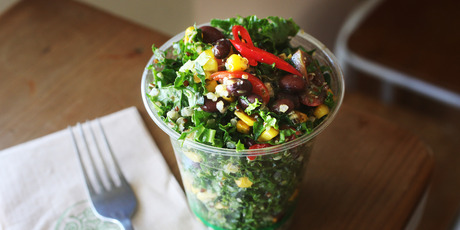 SERVICE & OTHER STUFF
Service is excellent - so good, in fact, you wonder how other cafes get away with having little-to-none. We arrived late in the day - but a custom-made salami pide ($8.50) was whipped up on the spot. As we sat by the window and ate we watched cars double-park outside and the driver run in for coffee and, often, a chat. It's that kind of place; without any of the insular reserve of other Grey Lynn spots.
Indeed Crumb's only misstep is not being open on weekends.