Brunch review: Coffee and Durum
Author

Section

Publish Date

Wednesday, 9 August 2017, 2:27PM
Address: 2A Hakanoa St, Grey Lynn Phone: 021 232 7579 Website: coffeedurum.co.nz Open: Weekdays 7.30am-4pm, Sat 8am-3pm, Sun 8am-2pm Cost: $22 for one
---
SET UP & SITE
This family-owned cafe, which first opened its doors toward the end of last year, sets itself apart from the rest of what's on offer in my Grey Lynn neighbourhood before you even step foot through the door. A far cry from the sleek design of most of its hip local counterparts, the shop's sign looks like it was created with clip art, which is both ugly and endearing. Inside, it's lovely. Hanging on one grey concrete wall is a woven rug and stacked along the shelf below are intricately designed cups and metal tea pots, nods to Turkey, from where the owners hail. The cafe's shape is an odd sort of rectangle with just a long, narrow bench to eat at, so instead I opt to sit outside at a picnic table, hoping to catch a glimpse of sun on this overcast autumn morning.
SUSTENANCE & SWILL
There's nothing wrong with eggs bene, but it's always exciting to read a breakfast menu comprised of items which have no need for hollandaise sauce. Coffee and Durum's specialty is house-made borek ($6.50 each), savoury pastry scrolls stuffed with mince or mozzarella and potato or various combinations of leek, feta and silverbeet. They're perfectly delicious snacks on their own (especially if you're hungover), but I have mine as part of the Turkish breakfast plate ($17.50), which also includes a simple salad of greens, cucumber, olive, cranberries and (weirdly) pre-grated mozzarella, accompanied by a baby-sized metal hot plate of Turkish salami swimming in oil. It's not fancy, but the balance between the light salad and the oily meat is perfect. I've always coveted this Mediterranean style of eating - no fuss, fresh, full of flavour.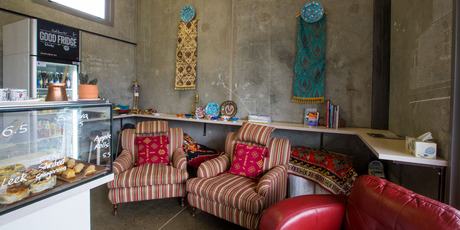 SERVICE & OTHER STUFF
Coffee and Durum really is a family affair. The husband and wife who own it are usually there in the morning, and their teenage son helps out on weekends. When I went during the school holidays their young daughter took my order. Her dad, a kind and gentle former university professor whose name I never caught, brought me my food and flat white ($4.50) and we had a long chat about how he'd finally moved to New Zealand to be with his wife and kids. They'd been separated for long stretches while he was teaching in Italy and were enjoying being back together. He's supposed to be retired now, but he enjoys running the cafe - it's like a hobby for him, he said. How lucky for the rest of us.