Brunch review: Bowl and Arrow
Author

Section

Publish Date

Friday, 9 June 2017, 11:33AM
Address: 228 Orakei Rd, Remuera. Phone: 021 0237 1550. Open: Weekdays 7am-4pm. Sat-Sun 8am-3pm. Cost: $42.50 for three.
---
SET UP & SITE
Bowl and Arrow opened six months ago in the new Orakei Bay Village complex. It's a small operation, just a couple of tables and a small bar area, but busy. Other businesses in the complex include a Farro Fresh, Ampersand (which offers a more traditional brunch) and Brothers Beer. It's a thriving space - but cold - although the morning we visited many of the customers seem to have come straight from a workout, yoga class or their daily walk along the nearby Hobson Bay Walkway.Healthy eating and exercise is a key part of the brand - Maria Tutaia of the Mystics is a big fan - and B&A co-owner Leisha Rae is a qualified health coach. Bowl and Arrow run occasional early morning yoga/fitness events - but you don't have to be dressed in Lululemon to enjoy this.
SUSTENANCE & SWILL
Their signature dish - well their only dish really - is the smoothie bowl; all are sugar and dairy- free (some gluten-free) served with fresh fruit and topped with paleo granola. Small are $8, large $12. Winter means there's toast and porridge as well - mixed berry and peanut butter, banana and honey ($8 weekdays only). We ordered three bowls - the Sweetie Pie - blueberries, peanut butter, maple syrup - the Sun Warrior - mango, pineapple, passionfruit - and the Six Pack - mint, pineapple, avocado, spinach. All were tasty, the Six Pack - the favourite - it's blend of mint and avocado bright and refreshing, and yes there was spinach in there somewhere too.
I was a little sceptical but these tasty, refreshing, energy-fuelled bowls were great. Kids love them ("It's like eating icecream" said my 12-year-old) and they're surprisingly satisfying as a brunch snack. There's also a range of juices and healthy snacks which will delight any vegans in the family, but they're not so health-obsessed that they don't serve some pretty good coffee (Espresso Workshop).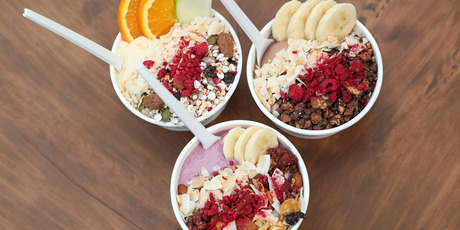 SERVICE & OTHER STUFF
Service is quick and efficient. They took my usual convoluted coffee order without blinking. If you can't get a table just takeaway and eat on the move. But more tables would be good. Verdict: perfect for a post-workout snack but also great for a different kind of family brunch. If the whole "smoothie in a bowl" is a fad - it's one rich in antioxidants - and the queues here speak for themselves.