Brunch: A good egg in Titirangi
Author

Section

Publish Date

Saturday, 15 April 2017, 4:48PM
SET UP & SITE
Titirangi seems like the type of place that should be overrun by excellent cafes serving quality coffee and superior food in delightful surroundings. The fact it never has been, means the opening of a new cafe is therefore a cause of great delight and optimism to locals, and quite a bit of fear, based primarily around the phrase "here we go again". So it was that we approached Park Road Kitchen, with its beautiful signage written in a lovely font, and its location just around the corner from the main strip, almost directly opposite one of its strongest competitors, Stripe.
SUSTENANCE & SWILL
The menu is simple and egg-heavy. On a simple and egg-heavy menu, there is not a lot you can do to elevate yourself above the general mass of half-decent cafes, but there is quite a lot you can get wrong. Park Road Kitchen didn't do anything wrong. The avocado in the smashed avo with poached eggs ($16.50) was ripe and generous, and the eggs were perfectly poached. The hash browns in the bacon benedict were thick-crusted, fluffy-centred and nourishing, and the bacon/hash/egg/hollandaise ratios were bang-on, the presentation solid. The butter sticks were wrapped in wax paper with twirled ends, which made it look like a lovely, artery-clotting lolly, and is just generally quite a classy touch. The toast was solid too. Good bread and butter is an easy benchmark for determining a brunch's quality.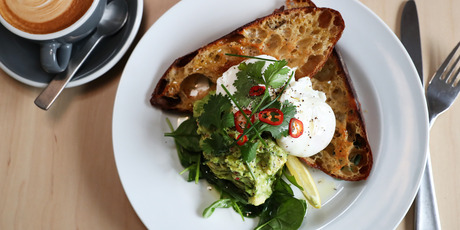 SERVICE & OTHER STUFF
It was market day in Titirangi, meaning the place was busier than normal and staff apologised to us for what they estimated would be a 40-minute wait for food. In the end, it took 20 minutes longer than that. "I'm sorry," the lovely waitperson announced on delivering the food, "we've just been slammed this morning." I wasn't sure about market day as an excuse, given that the market has run on the last Sunday of the month for more than a quarter of a century. Also, the cafe, while reasonably large, and quite full, was far from jammed. Let's be generous and say it was just a rostering issue, a one-off; teething troubles for a place that had been open only a few weeks. If not, nobody should ever contemplate going there, as we did, with three children under 4.