Back to beauty school: Call in the pros
Section

Publish Date

Sunday, 18 June 2017, 5:48PM
Few - if any - over-the-counter products make an instant difference. Makeup, of course, is immediate but it's removed each night. A good DIY exfoliation will make your skin glow but a few late nights will soon put paid to that. Even the feel-good benefits of a great haircut will pall if you can't style it yourself. For treatments that not only make an instant difference but one that doesn't wash off, you need a bigger budget and some professional help.
Nails. With bars in every mall, having good nails has never been easier, especially if you're willing to go fake. If you are careful, shellac and acrylics (coffin and pointed shapes are still cool and they keep their shine better than shellac) can last for more than two weeks. Good-looking nails also give you a self-esteem boost every time you look down. So do take another squiz if you're someone who currently baulks at the thought of pieces of plastic attached to your fingertips.
Teeth. Just about the quickest way to brighten a smile - making a huge difference to your look - is laser whitening. The procedure is non-invasive and quick (approximately an hour to an hour and half depending on your level of discolouration) and tailored to give you the level of "lightness" you want (unlike in the United States, pure-white smiles are not favoured by dentists here). Go easy on the red wine and coffee, and the results can last for years.
Lash extensions. If ever a beauty description should be declared oxymoronic, it must be "natural lashes". Eyelashes shouldn't be subtle; they should be arachnid-esque. But if yours are thinning (or you can't be fagged with mascara), consider extensions. Individual false lashes glued on by hand, extensions are now so common they are available at some nail bars, can last up to three to four weeks before infilling (depending on how well you look after them) and they look awesome.
Botox. When it comes to wrinkles, Botox is highly effective: if you can't frown, you can't crease. It is also a preventative - regular use means new lines can't form either. But it isn't for everyone. Good skincare will plump out the wrinkles, potentially delay new ones from forming and help keep the skin healthy. But, so far, nothing else deals to wrinkles quite like Botox.
Hair cut. Love your haircut but can't get it to look the same as it did when you left the salon? Fork out for a weekly blow-wave, and pay attention (especially to what type and how much product the stylist uses).
After about four weeks, you'll not only have spent a month looking like a walking hair commercial, you should have learnt how to style it yourself.
Read the label: Niacinamide
WHY LOOK FOR IT:
Another effective antioxidant, niacinamide (or vitamin B3) is the hero of many skincare ranges, including La Prairie and Environ. Among its many benefits it helps to brighten and even out the skin tone, improve the appearance of enlarged pores and minimise fine lines.
WHAT TO WATCH OUT FOR:
For a while it was thought that layering niacinamide and vitamin C products rendered each ineffective. Not so nowadays, with new, more stable, formulas happily working together in the pursuit of beautiful skin.
WHERE TO FIND IT: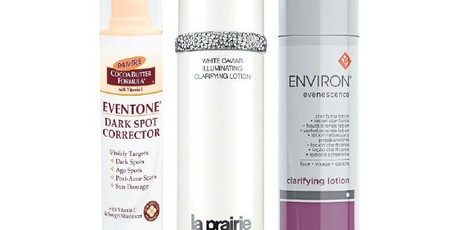 You beauty: Sarah Cowley
Health and wellness ambassador, celebrant and Olympian
Dermalogica Skin Smoothing Cream is a daily tonic for me. I hate feeling like my face can't breathe when I'm training and this moisturiser always leaves me feeling refreshed. It's light, and my go-to when I feel I need a boost. Dermalogica Skin Smoothing Cream ($75).