When Harry met Harry: Pop star collides with Prince on red carpet
Section

Publish Date

Friday, 14 July 2017, 9:00AM
The stars of Dunkirk brought out the glamour for the world premiere of Christopher Nolan's big screen release, Dunkirk.
Harry Styles, Tom Hardy, Cillian Murphy - as well as Prince Harry - led the extremely dapper arrivals at the Odeon cinema in Leicester Square on Thursday for premiere of the historical action drama, according to the Daily Mail.
The film tells the story of soldiers being evacuated from the beaches of Dunkirk during World War II.
The One Direction star, 23, parted ways with his usual kooky ensembles for a more reserved look for the flick's big event - which is slated for release on July 20 - while Hardy, 39, and Murphy, 41, also looked undeniably suave in their fitted suits.
Styles, who has won early praise for his role of Alex in Dunkirk, was dressed to impress in his paired down, minimalistic black suit.
The singer looked thrilled to be enjoying his first major movie experience as he mingled on the red carpet.
Prince Harry, 32, also added to the star-studded event, looking dashing as he posed for photographers in a crisp white shirt and a maroon and navy tie.
Ahead of the glitzy event, the royal hosted a reception attended by Dunkirk veterans at Kensington Palace.
At Kensington Palace Harry chatted to George Wagner, 96, from Litchfield near Birmingham, who was sent to Europe in late 1939 with the Royal Engineers, and like tens of thousands of others recounted how he seized an opportunity to get off the beaches.
He was given a private screening of the movie and said the sound of explosions brought back memories of the bombardment they faced as they tried to leave.
Mr Wagner said about the movie: "It's got bags of bangs, that's what worries me is the bangs.
"It just reminded me when we were just outside Dunkirk we were mortared as we were getting away. Then they started to shell us and then one or two planes started to have a go.
"I was down below deck, there were six or seven of us and we were soaking wet and naked, our clothes were in the engine room drying out."
The veteran later joined Prince Harry at the premiere and walked the red carpet with the royal who was cheered and screamed at by the crowds.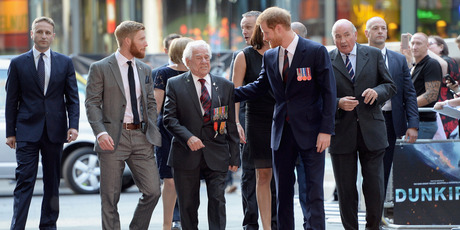 The Prince arrived onto the red carpet along with veterans from Dunkirk, Afghanistan and Kosovo.
During his time on the red carpet, Prince Harry looked thrilled as he shook hands with his namesake Styles - one of the movie's big names.
Twitter was awash with praise for Styles' appearance as a soldier in the war drama, with many saying they were "pleasantly surprised" by his onscreen efforts.
Their reviews came in following a press conference that had been held on behalf of Dunkirk, where Styles had been among those present.
Official reviews are strictly under embargo until a later date, but audience-goers shared their reactions on Twitter, praising Styles for his acting skills.
#Dunkirk packs a wallop but VERY different Nolan movie. Def see on IMAX. Tom Hardy has 10 lines & is amazing. Harry Styles can act people!!! pic.twitter.com/uyG6rR0NV1

— Jason Guerrasio (@JasonGuerrasio) July 10, 2017
A lot of people were wondering about @harry_styles & unknown cast. They're all great but Dunkirk is not about any one solider. pic.twitter.com/L1mHj1Uwxa

— Steven Weintraub (@colliderfrosty) July 10, 2017
Harry Styles & DUNKIRK cast deliver powerful performances as they react to the insane practical effects & sets.

Beyond immersive. Just wow. pic.twitter.com/VXLdG22cRh

— Kevin McCarthy (@KevinMcCarthyTV) July 10, 2017
Will also say Harry Styles' DUNKIRK role is surprising... & that's all I can really say. But I applaud Nolan for casting him as he did.

— Anna Klassen (@AnnaJKlassen) July 10, 2017
Speaking about Styles previously, director Christopher Nolan insisted that the boyband star had "earned" his place in the film.
Nolan said: "I don't think I was that aware of how famous Harry was. I mean my daughter had talked about him, my kids talked about him but I wasn't really aware of it.
"The truth is I cast Harry because he fit the part wonderfully and truly earned his seat at the table."
The director added: "What he does in the film is really remarkable in its subtleness and truthfulness and I hope people will comes to his performance with an open mind because I think he's an extraordinarily talented actor."
Nolan also explained the reason why you couldn't see Styles in the trailers, telling Entertainment Weekly: "We're not trying to oversell Harry in the movie for the specific reason that it's an ensemble. We don't want people who are huge fans of his being disappointed that he's not in it enough."
Styles plays the role of Alex, a British soldier, in the historical drama alongside newcomer Fionn Whitehead and Tom Hardy, and has claimed he was in "awe" of Nolan when he initially walked on set.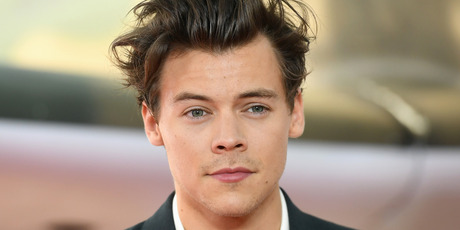 Styles said: "Being a fan of Chris and being on set with him, it's hard not to be in awe of him just in the way that he works.
"You feel lucky that you get to watch someone like that work and someone so passionate of what they're doing I feel is always a privilege to be around people like that."
While Dunkirk could be seen as Styles' big break into the film industry, he admits he "hasn't thought too much" about crossing over and pursuing a career in acting.
Over the last few months, Styles has been pursuing his own solo career when it comes to music and enjoyed chart success with his debut single Sign Of The Times.
Dunkirk is slated for release on July 20.