Tim Allen: 'Hollywood is like Nazi Germany'
Section

Publish Date

Monday, 20 March 2017, 8:51AM
Actor and comedian Tim Allen reckons being a conservative in Hollywood is like living in Nazi Germany.
The proud Republican, who attended the inauguration of President Donald Trump, said actors are too scared to speak their minds in La La Land.
"You gotta be real careful around here," Allen said on US TV show, Jimmy Kimmel Live.
"You get beat up if you don't believe what everybody else believes. This is like '30s Germany."
Shared some great laughs with @JimmyKimmel last night https://t.co/9RLxYnM84G #KIMMEL pic.twitter.com/DRVX01irE4

— Tim Allen (@ofctimallen) March 17, 2017
The 63-year-old, who plays an outspoken conservative on TV show The Last Man Standing, is one of a few actors in Hollywood who share their right-leaning views.
When Kimmel asked him about attending Mr Trump's inauguration ceremony, the Home Improvement star stammered: "I was invited, we did a VIP thing for the vets, and went to a veterans' ball, so I went to go see Democrats and Republicans."
Allen is often called upon to comment on political issues. While celebrating the 100th episode of his hit show, Allen was asked to share his views on then-presidential candidate, Mr Trump.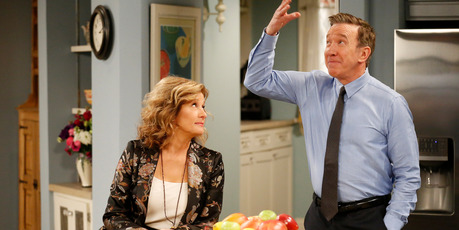 "I think it's funny because Donald Trump is kind of in the spirit of old Greek tyrants where they used to vote in a guy that had no encumbrances," he told Fox411 in January last year.
"So the smartest thing about him, which is probably most overlooked, to me, is that he doesn't owe anybody anything and if he would just stick to fixing the bridges, roads and infrastructures that's what he knows how to do ... just keep him doing that. He says a lot of stupid stuff but what he can do, he should do."