Terrified Britney rushed to safety during concert drama
Section

Publish Date

Friday, 11 August 2017, 9:05AM
Britney Spears was rushed by a man at her Piece Of Me show on Wednesday night at Planet Hollywood in Las Vegas.
The singer, caught in fan footage posted online, could be heard asking her security if the man had a gun, The Daily Mail reported.
The Las Vegas Metropolitan Police Department identified 37-year-old Jesse Webb as the stage crasher in a statement to DailyMail.com, who they arrested on Wednesday night.
In a statement obtained by DailyMail.com, Las Vegas Metro PD said: "On August 9, 2017, officers from the LVMPD arrested 37 year old Jesse Webb for trespassing during a Britney Spears concert.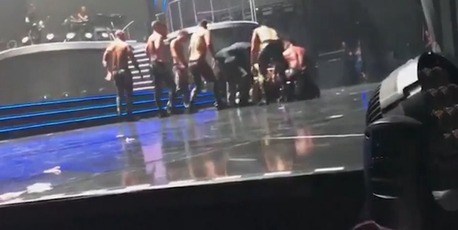 "Webb was asked to leave the concert by security prior to him jumping on stage and dancing," the statement continued. "Webb was transported to the Clark County Detention Center. There is no further information regarding this arrest and additional information will have to be obtained through the Clark County Justice Court."
The crazed stage crasher was swiftly dealt with by her security team and male backup dancers, who escorted him offstage.
A source close to the star told DailyMail.com Britney was terrified during the incident.
The 35-year-old was in the middle of singing her last song, (You Drive Me) Crazy, when a man rushed onstage.
At first Britney was unaware of the intrusion, but quickly her security surrounded her as other members of her team attempted to detain him.
The hitmaker could be heard asking her team, clearly terrified: "Is everything okay? What's going on?"
She then asks with urgency: "He's got a gun?"
Thankfully she had a large security team and a group of muscular backup dancers who got a hold of the man.
DailyMail.com has contacted Planet Hollywood and has also reached out to Britney Spears' rep for comment on the incident.
Initially, Spears did not know a man had intruded on the stage and was notified by a bodyguard that she was in danger.
The singer only saw the man once he was surrounded by her guards and male dancers.
Her knee visibly buckled beneath her before she was swiftly escorted backstage to safety.
After successfully pinning the intruder to the ground, they hoisted him up to escort him offstage.
But, the stage rusher had some fight still in him, as he appeared to knee one of the guards on the way out.
One fan wrote on Instagram, describing the events: "A crazy fan jumped in on the stage while Britney was performing her hit song "crazy" she was a little terrified and asked if he had a gun?"
Another simply wrote: "Poor Britney leave her alone."
Some had a more jaded and wry perspective on the night's events, with a concert goer writing: "Chairography. Hairography. An unexpected and violent stage crashing - had it all tonight!"
Spears' Piece Of Me Vegas residency, which has earned more than $100 million in ticket sales, will come to a close this December after first debuting in 2013.