MAFS pair get matching tattoos in NZ
Section

Publish Date

Thursday, 6 April 2017, 5:46PM
They were one of ten couples who chose to stay together after being paired on the experimental matchmaking series, Married At First Sight.
And Sharon Marsh and Nick Furphy have now confirmed they've undertaken another joint mark of commitment together according to Daily Mail.
The duo revealed to Nine Now this week that they have inked their bodies with 'matching tattoos'.
The couple have already announced Sharon's intent to move to Melbourne to live with Nick and addressed ongoing pregnancy rumours since the show's finale.
Sharon told the publication they had matching designs permanently placed on their skin while on a holiday in New Zealand.
'We won't say where or what but yeah we got matching tattoos,' Sharon explained.
The blonde beauty claimed it was a dare aimed at Nick, but when he said 'well I'll do it, if you do it' she caved.
They both laughed as they agreed 'it was pretty funny.'
It appears the holiday happened four weeks ago, with Sharon posting a picture to Instagram last month at a winery on Waiheke Island, tagging Nick with her.
During the chat, Sharon also seemed to confirm June will be when she'll move to be with Nick: 'I'm committed until end of May in Perth.'
Meanwhile, the star finally addressed baby reports during an interview on the Today show on Monday.
The reality TV couple looked more smitten as ever and at one point, Melbourne carpenter Nick, 30, affectionately cradled his 'wife's' stomach.
'In nine months there could be a little Furphy,' Sharon said laughing.
The Perth beauty went on to address claims that they recently confirmed pregnancy reports to a tabloid magazine.
'It is hilarious. We got asked, 'Are you pregnant.' And [Nick] pipes up, yep, I'm pregnant.
So they slam us on the front of a magazine saying, 'Yes I'm pregnant,'' she laughed.
'But that's his bloody quote, not mine.'
While Nick's love life continues to blossom, he recently opened up about personal struggles relating to his father's health.
The 30-year-old revealed to TV Week on Thursday: 'It was hard to concentrate on the experiment when you had all that happening in the background. It makes you a little on edge.'
Last week it was announced Nick's father would be tested for the incurable Motor Neurone disease and despite specialist appointments Nick says it still hasn't been confirmed by doctors.
Despite originally wanting to stay put in Perth, Sharon suggested she would move for love if that was the only way they could be together.
A day trip to Melbourne threw a spanner in the works, as an impressive display of commitment from Nick left his 31-year-old bride convinced she could at least trial a move to the southern state.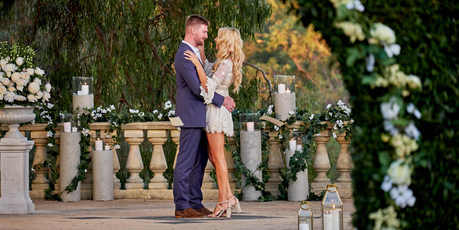 Nick was pleasantly surprised by the offer: 'I don't think I've ever had anyone in my life offer to do something like that.'
'It's a lot of commitment for someone to say that. I felt really lucky and I'm not going to take that for granted,' he added.
After visiting his apartment, the pair went out to sit down and have a serious chat about their future, with their original plans dashed.
'If [your dad's illness] is as bad as the doctors think it is, I would not expect you to ever come to Perth to live,' she told the carpenter.
With expressions of thoughtfulness and love being a shock specialty of the larrikin man, he immediately jumped in with a grand gesture.
'I can come to Perth, help you pack up all your furniture, put it away in storage, and we can always just drive your car over,' he told her earnestly.
The deal appeared to be cemented when Nick offered to come back to Perth to help her pack up her life and then expressed interest in buying a house with the 31-year-old.
Eventually the pair came to a decision. Sitting on a park bench, Sharon nervously revealed she wanted to give the move a shot.
'I'm over the Skype, I'm over the texting I'm over the calling,' she began.
'Everything always happens for a reason and I'm 99.9 per cent confident to say I'm happy to move for you Nick Furphy.
'I'm going to start a little life with you in Melbourne, do a little trial, and see how it goes from there.'