Kim Kardashian denies cocaine use after fan points out white substance in selfie
Section

Publish Date

Wednesday, 12 July 2017, 8:52AM
Kim Kardashian has slammed allegations that she uses cocaine.
Eagle-eyed fans noticed what appeared to be two lines of a white powdery substance in the background of one of her social media clips on Monday.
The KUWTK star was quick to shut down the accusations writing on Twitter: 'I do not play with rumors like this so I'm gonna shut it down real quick. That's sugar from our candy mess from dylan's candy shop,'
The 36-year-old star felt the need to respond after some social media users called her out on what appeared to be lines of cocaine on a counter-top behind her.
Kim had been showing off new items from the Kardashian Kids collection on her Snapchat and Instagram stories.
One Twitter user wrote: 'Ohhhhhh @KimKardashian caught out with cocaine .. durtayyyyy,' Kim's explanation didn't convince some of her followers however, with one person replying: 'You keep your sugar in cut lines? neat'.
Another replied simply: 'yea candy'.
The mother-of-two was spotted visiting Dylan's Candy Store in New York on Sunday with her daughter North, four.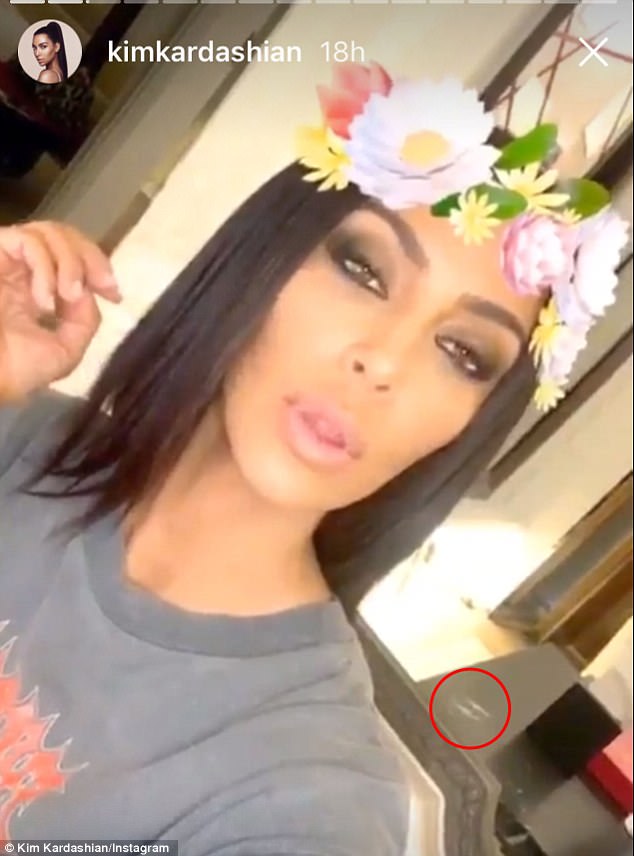 She wore shorts and a pinstripe blazer as she picked up several sweet treats for her little girl.
Kim has talked about her stance on drugs previously, telling Jay Leno on The Tonight Show in 2010: 'I've never been a drinker, I've never gotten into drugs.
'You know, I think I have such a close family. I think, you know, at a young age. I think you know my sisters do enough drinking to kind of fill up the whole family....From a young age, my dad made it very clear that, "OK, you're the responsible one and you have to watch your sister, and (he) taught me how to drive when I was 14 in case my sister or her friends were going to be drinking and I always had permission to drive.
'You know, I had to call him from the destination and the final place. I always felt this sense of pride that he had in me that I was the responsible one so I always wanted to make him proud. And I hate the taste of alcohol.'