Deadpool actor's hilarious response to Wonder Woman
Section

Publish Date

Tuesday, 11 July 2017, 8:08PM
Deadpool was just beaten at the box office by Wonder Woman and there's one actor who is super happy about it.
We aren't talking about Gal Gadot, the star of the triumphant film Wonder Woman - we're talking about Ryan Reynolds, the star of the movie that has just been beaten.
Taking to Instagram, Reynolds posted a congratulatory message to the female-led superhero flick with a picture of his character Deadpool making a heart sign around a Wonder Woman necklace.
And in true Deadpool style, Reynolds gave the photo a classic caption.
Wonder Woman overtook Deadpool in the US box office over the weekend after it grossed more than $US363 million. Gadot's movie has since grossed $US368 million.
While Deadpool still holds the worldwide record with takings of $US783 million, Wonder Woman is right on its heels with $US745 million so far. Deadpool is still the highest-grossing R-rated movie of all time.
The Wonder Woman box office takes it into the top ten highest grossing superhero movies of all time and knocks Deadpool down to spot 11.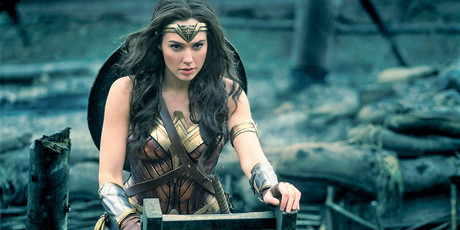 Fans of both superheroes were quick to flood the 40-year-old actor's post with comments fawning over Reynolds for being such a supportive loser.
"This is one of those moments where you show your fans how great of a person you are. Your humbleness and praise for others achievements show how great a character you have. You rock Mr. Reynolds," one fan wrote.
And Reynolds' heartwarming post is the second time in as many weeks that the actor has made the internet fall in love with him.
After a high-schooler named Gabi Dunn was dumped, she tried to remedy the situation by photoshopping her boyfriend out of all her pictures - using Ryan Reynolds as inspiration.
My boyfriend and I broke up a few days after prom, so I decided to "edit" the photos a little @VancityReynolds pic.twitter.com/Ecvn5Wkgb4

— Gabi Dunn (@gabidunn99) July 4, 2017
The Deadpool actor caught wind of her clever editing skills and backed the heartbroken fan, tweeting a plan of attack and starting a hashtag for the teen.
We should photoshop me over his yearbook picture next. #DontMessWithGabi https://t.co/o0qFBXvSNi

— Ryan Reynolds (@VancityReynolds) July 6, 2017
The sequel to Deadpool, currently named Deadpool 2, is slated for release on June 1, 2018.