Beyonce gives birth to her twins
Section

Publish Date

Sunday, 18 June 2017, 3:05PM
Beyonce Knowles and Jay-Z have welcomed twin babies, according to a new report.
Us Weekly reported on Saturday that multiple sources confirmed the power couple welcomed two children earlier this week.
As the Daily Mail reports, there has been days of rampant speculation if the 35-year-old singer had given birth at a Los Angeles medical center.
Adding fuel to the fire, her 47-year-old rap mogul husband skipped the Songwriters Hall Of Fame in New York City on Thursday, instead sending his friend and record label head Jon Platt.
Increasing the rumours further, Beyonce's sister Solange Knowles had been spotted at the Los Angeles medical centre rumoured to be where the couple are having their children, according to reports on Thursday.
Beyonce's younger sister was seen pulling into the medical facility on Thursday, according to Radar Online and various reports on Twitter, two days after rumours went into overdrive that the star was in labour.
On Tuesday, Jay Z was spotted leaving the Beverly Hills mansion he shares with Beyonce.
The Hip Hop mogul, 47, was seen leaving their home after Twitter went into overdrive over rumours his 35-year-old wife was in labour on Tuesday.
The day marked the Lemonade hitmaker's due date, and saw increased security at the medical centre.
Jay-Z, who is also father to five-year-old Blue Ivy with his superstar wife, was seen talking on the phone as he left their home in the back of a chauffeur-driven Escalade.
The 99 Problems star, who married Beyonce in 2008 after five years of dating, was reportedly headed in the direction of the Westwood-based medical facility.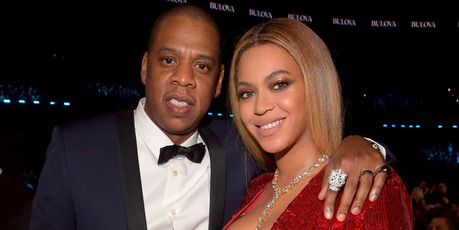 Heavy security was spotted at a Los Angeles hospital, while it was also reported her security staff were carrying two baby seats to a medical facility earlier in the day.
An insider told Hollywood Life: "Beyonce's security was seen leaving her Beverly Hills home this morning carrying two baby seats to a hospital in West LA.
"Beyonce's due date was yesterday and she has been seeing her OB/GYN on a regular basis at a different location. This trip to this hospital is unique."
The NY Daily News also quote sources at Melba's restaurant in Harlem who heard DJ Khaled, whose new track Shining features performances by Jay Z and Beyoncé, spreading word on Tuesday evening that his friends had welcomed their twins.
Another source who works at Jay Z's 40/40 nightclub in NYC told the publication that the couple welcomed a boy and a girl on Tuesday morning.
In February, Beyonce announced that she was pregnant in a now iconic Instagram photo of herself in just a bra and underwear with her bump on show.
The singer said: "We would like to share our love and happiness. We have been blessed two times over.
"We are incredibly grateful that our family will be growing by two, and we thank you for your well wishes. - The Carters."
The couple, who got married in 2008, are already parents to five-year-old daughter Blue Ivy.
When their first child was born, the couple confirmed the news in a statement to press two days after the birth.
The low-key announcement followed Beyonce's big reveal of her pregnancy during a performance at the 2011 MTV VMAs when she ended her routine by rubbing her stomach.