Ariel Winter defends outfit choices again
Section

Publish Date

Sunday, 16 July 2017, 9:47AM
Ariel Winter has again been forced to defend her wardrobe choices - and this time the actress is taking aim at anyone who says she's "squeezing" into her clothes.
The 19-year-old Modern Family star took to Twitter to slam her detractors and remind them that when it's summer, she's going to wear shorts.
"Pretty annoyed about the focus on the fact that I wear shorts, and the commentary that I'm 'squeezing' into them or the idea that it's not okay for me to wear shorts," she wrote.
"It's SUMMER. Get over it. It's hot, I'm obviously going to be wearing minimal clothes."
Rant pic.twitter.com/ZjrK4x7qrU

— Ariel Winter (@arielwinter1) July 14, 2017
The actress went on to say she isn't going to "suffer in a turtleneck to please anyone". "Also, I'm not 'squeezing' into anything," Winter continued.
"My shorts fit me and everything I'm doing is just fine. Please leave young women alone.
"We're just living our lives. It's really troubling that we even have to deal with this kind of stuff nowadays. Please stop criticising everything everyone does!!!!!"
Winter's Twitter rant no doubt stemmed from her most recent Instagram post which pictured her wearing a cropped, black lacy top with a pair of black shorts.
The young star is sadly no stranger to criticism when it comes to her outfit choices and constantly claps back at bodyshamers.
Winter came under fire in May after she turned up to a Modern Family screening with her co-stars in a much dressier outfit than the rest of the cast.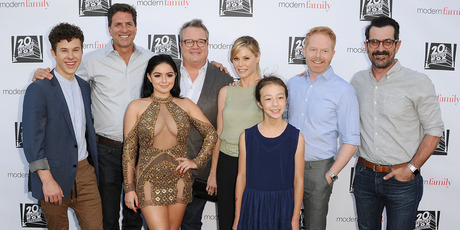 The actress was quick to hit back, taking to Instagram to defend herself.